American Revolution Conference in the Mohawk Valley
June 9, 2022

-

June 12, 2022
Conference – June 10th-12th (Please Note, the Conference is expanded to include 13 Speakers and Starts 1:00 pm on Friday, June 10th, Continues all day Saturday, June 11th and Ends about 12:30 pm on Sunday June 12th – Please see Conference Schedule below)
Speakers/Topics include:
Fireside Chat with John "Jack" Buchanan and Guest Host Bruce M. Venter – Rice Kings, "Pack of Beggars", and Smelly Continentals — Revolution in the Deep South with the Swamp Fox, the Gamecock, and other characters "Agile, Mobile, and Hostile"
Edward G. Lengel – Enigmatic Warrior: Light-Horse Harry Lee and the Southern Campaign
William M. Fowler, Jr. – The Revolution's Odd Couple: John Hancock and Samuel Adams – This Talk is Supported by the Dr. Joseph Warren Foundation
James Kirby Martin – A Contagion of Violence: The Human Slaughter in Frontier New York: 1775-1783
Mark Edward Lender – John Brown's Raid on Fort Ticonderoga in September 1777
Ricardo A. Herrera – Feeding Washington's Army: Surviving the Valley Forge Winter of 1778
Eric H. Schnitzer – Brave and Gallant: Black and African American Military Men at Saratoga
Craig Bruce Smith – The Interests of Our Dearest Country: Honor and the Continental Army
David Head – George Washington and a Very Mysterious Business: Tracking Down the Newburgh Conspiracy
Christian McBurney – Dark Voyage: An American Privateer's War on Britain's African Slave Trade
Glenn F. Williams – Leadership from Both Sides During the Sullivan-Clinton Campaign of 1779
Robert A. Selig – The Road to Yorktown: Moving the Army from Newport, Rhode Island to Yorktown, Virginia
Lunch on Saturday is included in the registration fee. Lunch will consist of sandwiches, sides and beverages. There will also be Coffee/Beverage Breaks throughout.
Bus Tour (Less than 25 seats left) – Thursday, June 9th – Drums Along the Mohawk: General Nicholas Herkimer, the Battle of Oriskany and Siege of Fort Schuyler (Stanwix)
Join Tour Leaders Glenn F. Williams and Norman J. Bollen as they guide you through the pages of Walter D. Edmonds' book, Drums Along the Mohawk. Relive General Herkimer's and the Tryon County Militia's march to relieve the troops at Fort Schuyler, and the Battle of Oriskany that took place on August 6, 1777.
Tour stops included the Fort Stanwix National Monument, the Oriskany Battlefield, the General Herkimer Homestead, the Palatine Church, the sites of Fort Herkimer and Fort Dayton, and more. Lunch and a Bus Tour Booklet are included – Please wear comfortable walking shoes and bring snacks/beverages. This is a rain or shine Bus Tour.
Registration – Two ways to Register
Lodging – Please Click Here for the Hotel-Lodging Information – 2022 Rev War Conference
Conference Schedule (Please note, this Schedule is subject to changes and will change, please check back periodically) – 2022 Rev War Conference Schedule
Conference Location – The Fulton-Montgomery Community College's Theater – The Visual Arts & Communications Building (Campus Map Building #2) – 2805 NY-67, Johnstown, NY 12095 – Please Park in Lots 5, 4 or Visitor's Lot – Please Click Here – FMCC Campus Map
Conference Sponsors – Please Click Here for Sponsor Information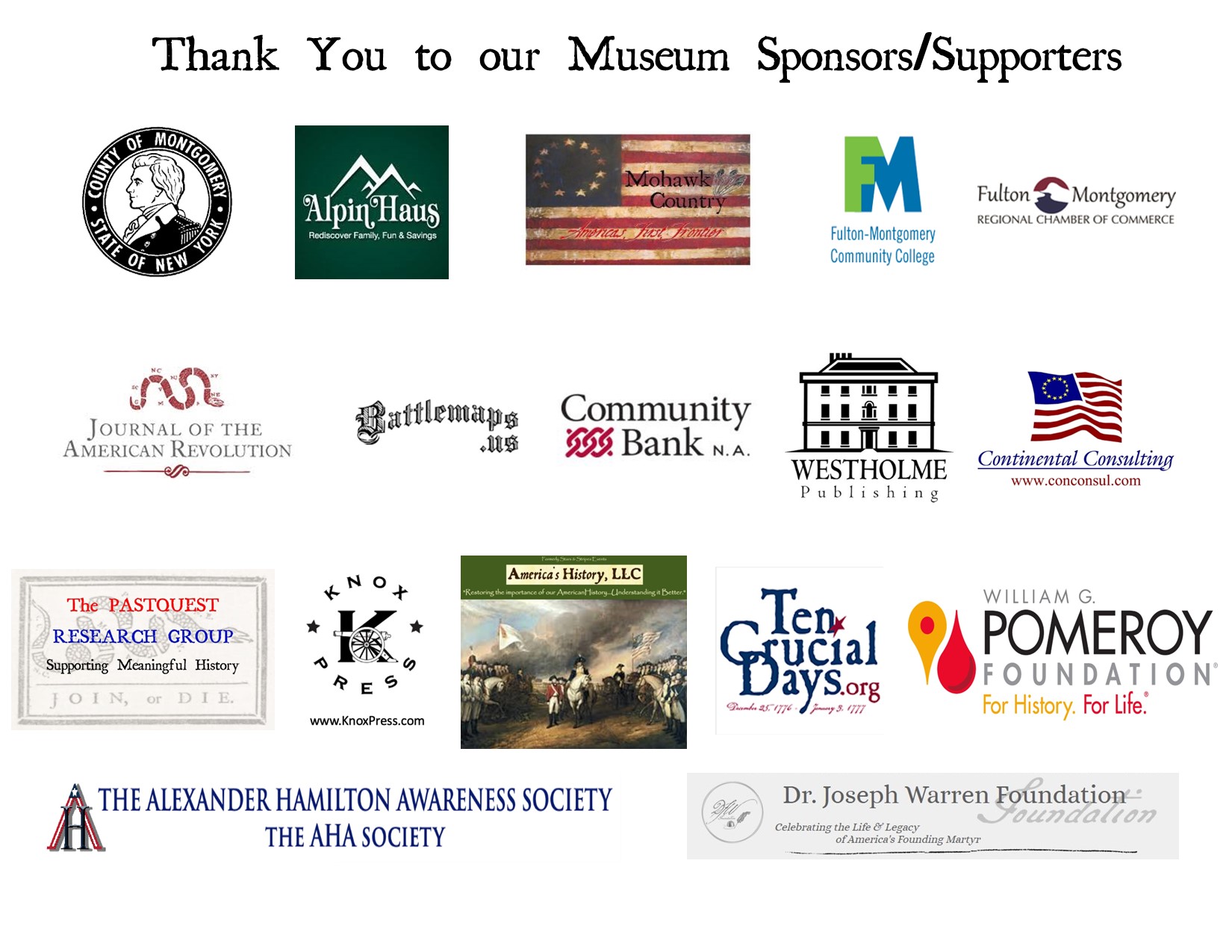 Thank you, your attendance supports the Fort Plain Museum & Historical Park, a 501(c)3 – Non-Profit Organization.